Manned Guarding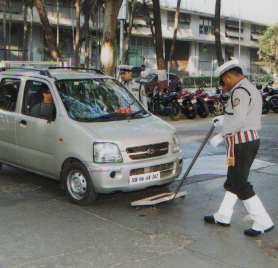 Introduction
If we go with the recent crime reports and happenings, it is evident that the need of security services or manned guarding services has increased manifolds. The right king of professional services can offer you the best security measures for your firm or any other place that you want to secure. The dynamics of different places in terms of security requirements vary from one another. Therefore it is needed to devise different security measures for different places. A professional and experienced manned guarding services concern can formulate the best security for your purpose in line with your requirements. We at Hindustan Security Services (HINSEF) have highly skilled professionals and tools to render you a full proof security.
General Details
Manned guarding services is not just about providing men for security of some home or business premises, as it includes a variety of services and functions. At HINSEF, we render a wide range of services, and have a skilled and experienced team of professionals that render such services with a comprehensive range of functions. The general features of our manned guarding services include control room monitoring with electronic systems, placement of security officers at key places, search and monitoring services, reception search and guarding, gatehouse keeping, and patrol services etc. We not only provide such services for residential and commercial premises, but also for parties, events, conferences, exhibitions, functions etc.
Methodology
At HINSEF, we have a systematic approach towards rendering our services and we work in collaboration with the relevant experts to help you get the best service for your purpose. Before providing the manned guarding services, we first study the location where the desired services are needed. We then study the parameters and the dynamics of the place where the services will be actually rendered. This will include the study of all the entry points, the exit points, and any other points from where the premises can be accessed. We also keep in mind the sensitivity of the place or the activities being performed there. Our methodology of manned guarding services also includes discussion with the clients. Here we discuss each and every aspect of their requirement and any other critical or confidential information that they want to give us. In case the client is facing any sort of threat, we look into all the aspects of the threat so that a needed security measure can be formulated. All this analysis helps us in appointing manned security guard at different places in the premises. We have the experience to know how to secure a place and its surrounding, and what are the potential threats for some place. So we don't just provide manned guarding services, we ensure that they are good enough to secure the premises in line with its requirements and dynamics.
Highlights
So in terms of manned guarding services. HINSEF has a complete and comprehensive range of services. These services are rendered with a systematic approach and with complete analysis of the security requirements. It will include placement of the security guards and monitoring experts that will secure any premises in its entirety.